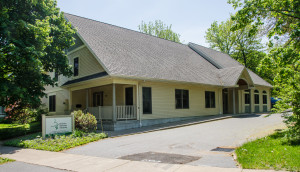 Everyone – regardless of ancestry, nationality, class, faith background, abilities, educational level, gender, or sexual orientation – is welcome to come visit us any Sunday morning or any other time we are together for worship. It's a good idea to send us an e-mail to make sure our schedule hasn't changed for a particular Sunday.
We are meeting in person and via Zoom. If you wish to attend our Sunday service via Zoom, please contact us at contact@rochestermennonite.org. 
When You Arrive
If you drive to the church, park in the lot in the back and come down the sidewalk to the main entrance, on the side. If parking is a problem, pull up by the main entrance and someone will help you. Come in and make yourself at home! Ask anyone if you have questions. We have a nursery for the very young and a small prayer room if a quiet area is needed.
The Worship Service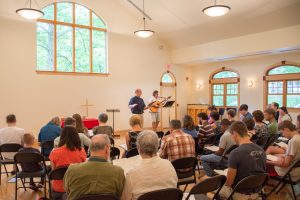 We have no pastor, so a variety of people from the congregation lead our worship services. That means that from Sunday to Sunday the service will vary somewhat. However, most of our weekly gatherings follow a basic pattern. We are informal and flexible in our services. Most visitors will find much that is familiar about how we worship. We praise God in song and in words. We always hear the Bible, but hardly ever a sermon; our style is to share our stories so we can learn from each other. The younger children usually have a short time set aside for them. We pray, for ourselves and for the whole world, for the raining down of justice and of peace and an end to violence.
After the Worship Service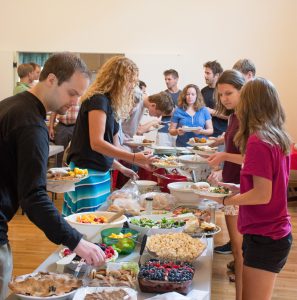 The worship service typically lasts 45 minutes to an hour. Afterward, during the school year–from September through June–we normally have an education hour. Children go to their Sunday School classes, while the adults usually choose between a Sunday School class of their own or an informal discussion time. Visitors are always welcome to stay. On a typical Sunday we wrap up around noon. Once a month or so we stay after the service for an hour or two and share a meal, to which everyone is invited. During the summer months we take a break from our formal education hour. Our Sunday gatherings are exclusively worship services, except for our monthly potlucks. If the weather is good, the children can play on the playground next door.